1. A flank steak that has been cut into large pieces, tenderized by marinating, broiled or grilled, then thinly sliced across the grain. 2. A term also used for various thick cuts of meat including sirloin tip (see sirloin) and top round (see round).

From The Food Lover's Companion, Fourth edition by Sharon Tyler Herbst and Ron Herbst. Copyright © 2007, 2001, 1995, 1990 by Barron's Educational Series, Inc.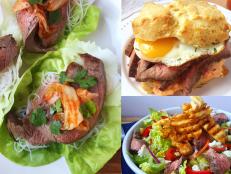 Here are a few ways to use broiled steak as the foundation for easy yet impressive meals.