Pronunciation: [MAY-truh (MAY-tehr) doh-TELL]

A compound butter made by blending together softened butter, lemon juice or vinegar, chopped parsley and seasonings. It is served as an accompaniment to fish, poultry and meat.

From The Food Lover's Companion, Fourth edition by Sharon Tyler Herbst and Ron Herbst. Copyright © 2007, 2001, 1995, 1990 by Barron's Educational Series, Inc.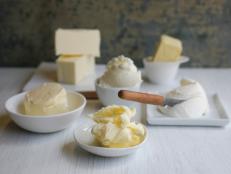 Learn how to navigate all the butters in your supermarket dairy aisle, then find out which applications require the different varieties.