A category of meatlike products created from various soybean byproducts including textured vegetable protein, soy protein concentrate and sometimes tempeh or tofu. Meat analogs come in myriad forms including fat-free soy bacon (bits and strips); low-fat soy sausage (links and patties); "hamburgers," which come in patties and may contain grains and vegetables; and "hot dogs," which can sometimes contain tofu. Meat analog products must be refrigerated and should be used within a week of purchase. They can be prepared as one would meat (grilled, sautéed, broiled) but cook more quickly than meat. Pans should be sprayed with vegetable spray to prevent sticking. Meat substitutes can be found in natural food stores and most supermarkets.

From The Food Lover's Companion, Fourth edition by Sharon Tyler Herbst and Ron Herbst. Copyright © 2007, 2001, 1995, 1990 by Barron's Educational Series, Inc.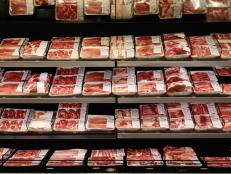 The 9 things you need to know when you're at the grocery store or butcher.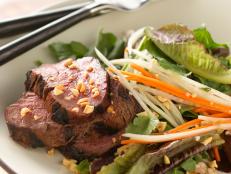 Grilling is one of the lightest ways to cook, but to keep it that way, pick leaner meats. Make healthy meal choices with these tips from Food Network.