An alcoholic drink made with liquor (typically rum, whiskey or brandy), milk, sugar and sometimes vanilla. The mixture is usually blended with crushed ice and strained into a tall glass.

From The Food Lover's Companion, Fourth edition by Sharon Tyler Herbst and Ron Herbst. Copyright © 2007, 2001, 1995, 1990 by Barron's Educational Series, Inc.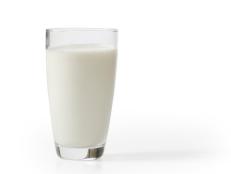 If you've scanned the milk container at breakfast time, you'll notice lots of terms on the carton. Ever wondered why milk is "homogenized" and "pasteurized" and why the heck is vitamin D added? We'll iron out these terms and explain why they're on your milk container.