1. Any of various electric kitchen machines used to beat, mix or whip foods. There are two basic kinds—stationary (or stand) and portable (or hand-held). Stationary mixers have more powerful motors and therefore can handle heavier mixing jobs. They also take up more counter space. In addition to the standard beaters, stationary mixers are usually equipped with an assortment of attachments that can include dough hooks, wire whisks and flat, paddle-style beaters. Many have attachments such as citrus juicers, ice crushers, pasta makers, sausage stuffers and meat grinders. Portable mixers, as the name implies, can be used anywhere. Their small size is due in part to a small motor, which also limits these machines to smaller tasks. But size also makes the portable mixer easy to store. 2. Beverages such as soda water, cola or fruit juice that are combined with liquor to make a cocktail.

From The Food Lover's Companion, Fourth edition by Sharon Tyler Herbst and Ron Herbst. Copyright © 2007, 2001, 1995, 1990 by Barron's Educational Series, Inc.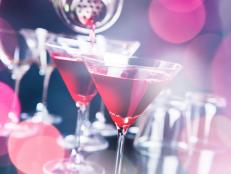 Instead of those artificial, high-sugar options, reach for these healthier cocktail mixers.