Early Greeks and Romans are thought to be among the first cultivators of mushrooms, using them in a wide array of dishes. Today there are literally thousands of varieties of this fleshy fungus. Sizes and shapes vary tremendously and colors can range from white to black with a full gamut of colors in between. The cap's texture can be smooth, pitted, honeycombed or ruffled and flavors range from bland to rich, nutty and earthy. The cultivated mushroom is what's commonly found in most U.S. supermarkets today. However, those that more readily excite the palate are the more exotic wild mushrooms such as cèpe, chanterelle, enoki, puffball, shiitake and wood ear. Because so many wild mushrooms are poisonous, it's vitally important to know which species are edible and which are not. Extreme caution should be taken when picking them yourself. The readily available cultivated white mushroom has a mild, earthy flavor. The cap ranges in size from ½ to 3 inches in diameter and in color from white to pale tan. Those labeled "button mushrooms" are simply the small youngsters of the cultivated variety. These common mushrooms are available year-round but are at their peak in fall and winter. They're sold in bulk and in 8-ounce packages. Look for those that are firm and evenly colored with tightly closed caps. If all the gills are showing, the mushrooms are past their prime. Avoid specimens that are broken, damaged or have soft spots or a dark-tinged surface. If the mushrooms are to be cooked whole, select those of equal size so they will cook evenly. Fresh mushrooms should be stored with cool air circulating around them. Therefore, they should be placed on a tray in a single layer, covered with a damp paper towel and refrigerated for up to 3 days. Before use, they should be wiped with a damp paper towel or, if necessary, rinsed with cold water and dried thoroughly. Mushrooms should never be soaked because they absorb water and will become mushy. Trim the stem ends and prepare according to directions. Canned mushrooms are available in several forms including whole, chopped, sliced and caps only. Frozen or freeze-dried mushrooms are also available. Dried mushrooms are available either whole or in slices, bits or pieces. They should be stored in a cool, dry place for up to 6 months. Mushrooms are one of nature's most versatile foods and can be used in hundreds of ways and cooked in almost any way imaginable.

From The Food Lover's Companion, Fourth edition by Sharon Tyler Herbst and Ron Herbst. Copyright © 2007, 2001, 1995, 1990 by Barron's Educational Series, Inc.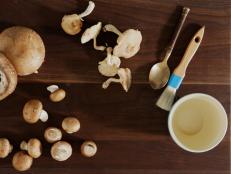 Use these tips to add earthy richness to your favorite dishes.