Pronunciation: [NAH-choh]

A crisp tortilla chip topped with melted cheese (usually cheddar) and chopped chiles, usually served as an appetizer or snack. Nachos sometimes appear on menus as "Mexican pizza," in which case they generally have additional toppings such as cooked, ground chorizo, onions and sometimes olives.

From The Food Lover's Companion, Fourth edition by Sharon Tyler Herbst and Ron Herbst. Copyright © 2007, 2001, 1995, 1990 by Barron's Educational Series, Inc.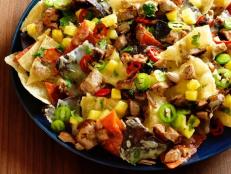 We piled on the toppings to make the ultimate game-day snack.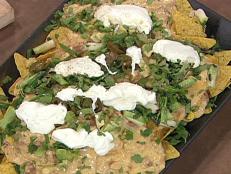 Celebrate the big football game with big food