A utensil that attaches to the top of a countertop by means of a clamp-and-screw housing. Shelled nuts are placed in a top opening. When a hand crank is rotated, the nuts are pressed against a grating drum, which pulverizes them without releasing their natural oil. Nut mills are usually made of enameled cast iron.

From The Food Lover's Companion, Fourth edition by Sharon Tyler Herbst and Ron Herbst. Copyright © 2007, 2001, 1995, 1990 by Barron's Educational Series, Inc.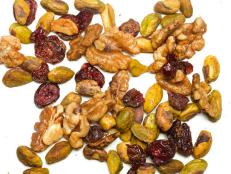 Make a few batches for holiday snacking.