Pressing tree-ripened olives extracts a flavorful, monounsaturated oil that is prized throughout the world both for cooking (particularly in Mediterranean countries) and for salads. Today's marketplace provides a wide selection of domestic olive oil (most of which comes from California) and imported oils from France, Greece, Italy and Spain. The flavor, color and fragrance of olive oils can vary dramatically depending on distinctions such as growing region and the crop's condition. All olive oils are graded in accordance with the degree of acidity they contain. The best are cold-pressed, a chemical-free process that involves only pressure, which produces a natural level of low acidity. Extra virgin olive oil, the cold-pressed result of the first pressing of the olives, is only 1 percent acid. It's considered the finest and fruitiest of the olive oils and is therefore also the most expensive. Extra virgin olive oil can range from a crystalline champagne color to greenish-golden to bright green. In general, the deeper the color, the more intense the olive flavor. After extra virgin, olive oils are classified in order of ascending acidity. Virgin olive oil is also a first-press oil, with a slightly higher level of acidity of between 1 and 3 percent. Fino olive oil is a blend of extra virgin and virgin oils (fino is Italian for "fine"). Products labeled simply olive oil (once called pure olive oil) contain a combination of refined olive oil and virgin or extra virgin oil. The new light olive oil (an American marketing term) contains the same amount of beneficial monounsaturated fat as regular olive oil and it also has exactly the same number of calories. What the term "light" refers to is that—because of an extremely fine filtration process—this olive oil is lighter in both color and fragrance, and has little of the classic olive-oil flavor. It's this rather nondescript flavor that makes "light" olive oil perfect for baking and cooking where regular olive oil's obvious essence might be undesirable. The filtration process for this light-style oil also gives it a higher smoke point than regular olive oil. Light olive oils can therefore be used for high-heat frying, whereas regular olive oil is better suited for low- to medium-heat cooking, as well as for many uncooked foods such as salad dressings and marinades. The International Olive Oil Institute recommends using pure olive oil for frying, since the flavor of extra virgin olive oil tends to break down at frying temperatures, making the added expense a waste. Olive oil should be stored in a cool, dark place for up to 6 months. It can be refrigerated, in which case it will last up to a year. Chilled olive oil becomes cloudy and too thick to pour. However, it will clear and become liquid again when brought to room temperature.

From The Food Lover's Companion, Fourth edition by Sharon Tyler Herbst and Ron Herbst. Copyright © 2007, 2001, 1995, 1990 by Barron's Educational Series, Inc.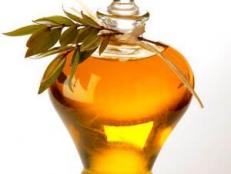 You've probably heard that olive oil is good for you, but do you know why? And since oils are source of fat, can they be part of a healthy diet? Here's the skinny on this fabulous oil and tips on how to enjoy it even if you're watching your weight.