A large, lightweight canvas cloth on which pastry dough can be rolled out. Rubbing flour down into the fibers makes the pastry cloth an excellent nonstick surface. After use, the cloth must be thoroughly cleaned before storing. Otherwise, any fat residue in the cloth will turn rancid and affect the flavor of future doughs.

From The Food Lover's Companion, Fourth edition by Sharon Tyler Herbst and Ron Herbst. Copyright © 2007, 2001, 1995, 1990 by Barron's Educational Series, Inc.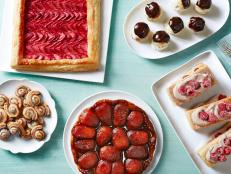 Turn store-bought dough into brunch, apps and desserts.