A small utensil consisting of a sharp cutting wheel attached to a handle. Small pastry wheels with plain cutting edges are used to mark and cut rolled-out pastry or cookie dough. Larger, plain-edged wheels are used to cut pizza. Jagging wheels or pastry jaggers have fluted edges that cut a decorative design in pastry doughs.

From The Food Lover's Companion, Fourth edition by Sharon Tyler Herbst and Ron Herbst. Copyright © 2007, 2001, 1995, 1990 by Barron's Educational Series, Inc.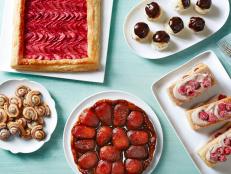 Turn store-bought dough into brunch, apps and desserts.