This tropical beauty received its appellation from the English because of its resemblance to the pine cone. Most other Europeans call it ananas derived from the Paraguayan nana meaning "excellent (or exquisite) fruit." The pineapple is native to Central and South America, where symbolic representations of its form were found in pre-Incan ruins. Hawaii, now this fruit's leading producer, didn't see its first pineapple until the late 1700s. For centuries the pineapple (in the form of carved wood, stone sculptures and the like) has been used to symbolize hospitality. The two major varieties found commercially in the United States are the Cayenne (from Hawaii) and the Red Spanish (mainly from Florida and Puerto Rico). The Cayenne pineapple, the longer and more cylindrical of the two, has a golden-yellow skin and long, swordlike leaves sprouting from a single tuft. The Red Spanish pineapple is squatter in shape, has a reddish golden-brown skin and leaves that radiate from several tufts. Mexico grows a third variety called Sugar Loaf, a large, exquisitely flavored specimen whose skin is still green when ripe. Because it doesn't ship well, the Sugar Loaf is rarely imported into the United States. Pineapples can weigh up to 20 pounds, though the average size marketed ranges between 2 and 5 pounds. All varieties have bumpy diamond-patterned skins. Though there are slight flavor variations depending on the variety, all ripe pineapple is exceedingly juicy and has a tangy sweet-tart flavor. Fresh pineapple is available year-round with a peak season from March to July. This is one fruit that must be picked ripe because the starch will not convert to sugar once it's off the plant. Choose pineapples that are slightly soft to the touch with a full, strong color (depending on the variety) and no sign of greening. The leaves should be crisp and green with no yellow or brown tips. Overripe pineapples show their advanced state with soft or dark areas on the skin. Refrigerate fresh pineapple tightly wrapped for up to 3 days. If it's slightly underripe, keeping it at room temperature for several days will reduce its acidity (though it won't increase its sweetness). Pineapple is available canned (in its own juice or in sugar syrup), crushed or in chunks, slices or tidbits. It can also be found frozen and candied. Pineapple can be used in a variety of dishes including fresh fruit desserts and salads, and as a garnish for vegetables and meats. It's also delicious cooked — either simply sautéed or broiled, or in a dish like the famous pineapple upside-down cake. Fresh and frozen pineapple cannot be used in gelatin mixtures because of a natural enzyme that prevents them from setting (canned pineapple doesn't cause a problem). Pineapples are a fair source of vitamins A and C.

From The Food Lover's Companion, Fourth edition by Sharon Tyler Herbst and Ron Herbst. Copyright © 2007, 2001, 1995, 1990 by Barron's Educational Series, Inc.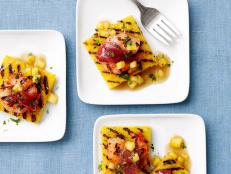 Sweet-and-salty appetizers from a North Carolina reader came out on top in our pineapple-themed contest.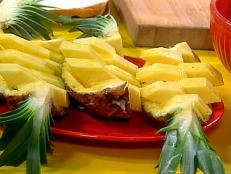 Cut juicy pineapple wedges at home with easy step-by-step instructions.