The ability of this versatile food wrap to cling to both food and containers makes it superior for forming an airtight seal. There are many varieties of plastic wrap, some of which are thicker, cling better and have better moisture-vapor retention than others. Most plastic wraps are made of polyethylene, whose components are not absorbed by foods to any degree. The wrap that is considered to have the best cling and moisture retention is made of polyvinylidene chloride, another leading brand is made of polyvinyl chloride (PVC). For added flexibility, both require the addition of plasticizers that, if in direct extended contact with food, can be absorbed. However, the USDA has approved their use with food and, though little is known of the effects of human ingestion of plasticizers over a prolonged period of time, there is no current evidence that they are harmful. There is some concern, however, that wraps containing plasticizers can transfer their components to food during lengthy heating in a microwave oven.

From The Food Lover's Companion, Fourth edition by Sharon Tyler Herbst and Ron Herbst. Copyright © 2007, 2001, 1995, 1990 by Barron's Educational Series, Inc.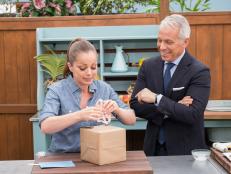 Avoid getting in a gift-wrapping rut--wrapping the perfect gift is easier than you think! With a few extra steps, you can even personalize your perfectly wrapped gift using items that you already have around the house. Ditch those gift bags and get to wrapping!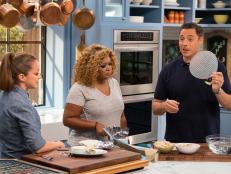 Sometimes the only thing better than delicious food is delicious food wrapped in more deliciousness! Our Kitchen Helpline has tips and tricks to help you perfect your favorite wrapped and rolled foods!