A beautiful white mushroom named for its resemblance to a cheerleader's pompoms. This firm yet feathery specimen ranges from 4 to 10 inches in diameter. It can be found in some produce markets throughout the year. Select those with a bright white color and no signs of yellowing. See also mushroom.

From The Food Lover's Companion, Fourth edition by Sharon Tyler Herbst and Ron Herbst. Copyright © 2007, 2001, 1995, 1990 by Barron's Educational Series, Inc.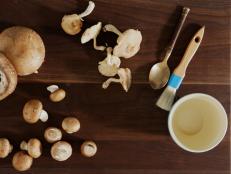 Use these tips to add earthy richness to your favorite dishes.