Pronunciation: [por-toh-BEHL-loh]

An extremely large, dark brown mushroom that is simply the fully mature form of the crimino, which in turn is a variation of the common cultivated white mushroom. The name "portobello" began to be used in the 1980s as a brilliant marketing ploy to popularize an unglamorous mushroom that, more often than not, had to be disposed of because growers couldn't sell them. The portobello mushroom, which can easily measure 6 inches in diameter, has an open, flat cap. Because it's the elder of the species, the portobello's gills are fully exposed, which means that some of the mushroom's moisture has evaporated. The reduced moisture concentrates and enriches the flavor and creates a dense, meaty texture. Portobellos can be found in gourmet produce markets as well as many supermarkets. Their stems are very woody and should be removed (but saved for soups, stocks, etc.) The caps can be used chopped, as with most mushrooms, but the portobello is much more dramatic used whole. It's particularly popular grilled and used in a sandwich, or cut into thick slices for a salad or entree. See also mushroom.

From The Food Lover's Companion, Fourth edition by Sharon Tyler Herbst and Ron Herbst. Copyright © 2007, 2001, 1995, 1990 by Barron's Educational Series, Inc.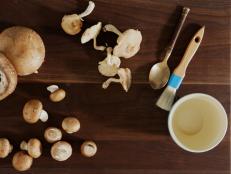 Use these tips to add earthy richness to your favorite dishes.