A scissorlike implement designed to cut up poultry. A good pair of poultry shears has slip-proof handles and slightly curved blades, one with a serrated and notched edge for gripping the flesh and cutting bones. Poultry shears make easy work of cutting up a duck, snipping out the backbone of a chicken or cutting up a stewing hen to be used for stock. They also perform additional useful tasks such as trimming artichokes and other vegetables.

From The Food Lover's Companion, Fourth edition by Sharon Tyler Herbst and Ron Herbst. Copyright © 2007, 2001, 1995, 1990 by Barron's Educational Series, Inc.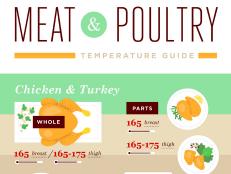 Use Food Network Kitchen's internal-temperature chart to serve perfectly cooked meat every time.