Composed of amino acids, proteins perform myriad essential functions for the body including supplying energy and building and repairing tissues. Proteins are obtained from both animal and vegetable sources including eggs, fish and meat.

From The Food Lover's Companion, Fourth edition by Sharon Tyler Herbst and Ron Herbst. Copyright © 2007, 2001, 1995, 1990 by Barron's Educational Series, Inc.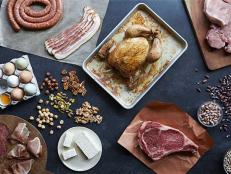 This important nutrient helps your body build and repair itself. Find out how much you need each day.