The French call this rich, delicate multilayered pastry pâte feuilletée. It's made by placing pats of chilled fat (usually butter) between layers of pastry dough, then rolling it out, folding it in thirds and letting it rest. This process, which is repeated six to eight times, produces a pastry comprising hundreds of layers of dough and butter. When baked, the moisture in the butter creates steam, causing the dough to puff and separate into hundreds of flaky layers. Puff pastry is used to make a variety of crisp creations including croissants, Napoleons, palmiers and allumettes. It's also used as a wrapping for various foods such as meats, cheese and fruit.

From The Food Lover's Companion, Fourth edition by Sharon Tyler Herbst and Ron Herbst. Copyright © 2007, 2001, 1995, 1990 by Barron's Educational Series, Inc.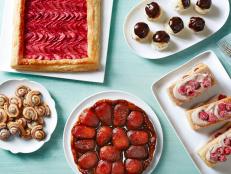 Turn store-bought dough into brunch, apps and desserts.