This dish originated in northeastern France in the region of Alsace-Lorraine. It consists of a pastry shell filled with a savory custard made of eggs, cream, seasonings and various other ingredients such as onions, mushrooms, ham, shellfish or herbs. The most notable of these savory pies is the quiche Lorraine, which has crisp bacon bits (and sometimes gruyère cheese) added to the custard filling. Quiche is classically baked in a quiche pan, which has fluted, straight sides and ranges in diameter from 8 to 12 inches (individual-size pans are 4 inches), and is about 1½ inches deep. Metal quiche pans have removable bottoms, glass and porcelain "dishes" have solid bottoms. Quiche can be served as a lunch or dinner entrée, or as a first course or hors d'oeuvre.

From The Food Lover's Companion, Fourth edition by Sharon Tyler Herbst and Ron Herbst. Copyright © 2007, 2001, 1995, 1990 by Barron's Educational Series, Inc.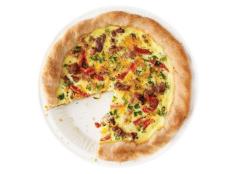 Design the perfect brunch: This customizable recipe leads to thousands of possibilities.