The word cabbage is a derivation of the French word caboche, a colloquial term for "head." The cabbage family — of which Brussels sprouts, broccoli, cauliflower and kale are all members — is wide and varied. Cabbage itself comes in many forms. The shapes can be flat, conical or round; the heads, compact or loose; and the leaves, curly or plain. In the United States the most widely used cabbage comes in compact heads of waxy, tightly wrapped leaves that range in color from almost white to green to red. Savoy cabbage and Chinese cabbage are considered culinarily superior but are less readily available. Choose a cabbage with fresh, crisp-looking leaves that are firmly packed; the head should be heavy for its size. Cabbage may be refrigerated, tightly wrapped, for about a week. It can be cooked in a variety of ways or eaten raw, as in slaw. A cruciferous vegetable, cabbage contains a good amount of vitamin C and some vitamin A.

From The Food Lover's Companion, Fourth edition by Sharon Tyler Herbst and Ron Herbst. Copyright © 2007, 2001, 1995, 1990 by Barron's Educational Series, Inc.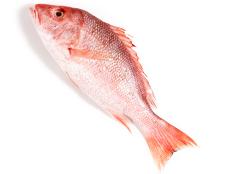 A guide to buying and preparing red snapper.