A New England specialty made by frying chopped cooked beets, potatoes, onions and crisp bacon together until crusty and brown. Traditionally about 85 percent of the volume should be beets. Red flannel hash is usually served with cornbread.

From The Food Lover's Companion, Fourth edition by Sharon Tyler Herbst and Ron Herbst. Copyright © 2007, 2001, 1995, 1990 by Barron's Educational Series, Inc.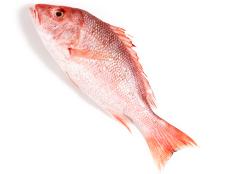 A guide to buying and preparing red snapper.