A generic term applied to any of several varieties of hot red chiles. The most commonly available forms are ground red pepper and red pepper flakes.

From The Food Lover's Companion, Fourth edition by Sharon Tyler Herbst and Ron Herbst. Copyright © 2007, 2001, 1995, 1990 by Barron's Educational Series, Inc.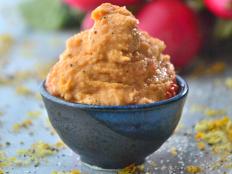 This dip has is all: it's healthy, easy to make, allergy-friendly (it's dairy and gluten free) and it's sure you be a crowd-pleaser at your New Year's Eve bash.