A generic term applied to any of several varieties of hot red chiles. The most commonly available forms are ground red pepper and red pepper flakes.

From The Food Lover's Companion, Fourth edition by Sharon Tyler Herbst and Ron Herbst. Copyright © 2007, 2001, 1995, 1990 by Barron's Educational Series, Inc.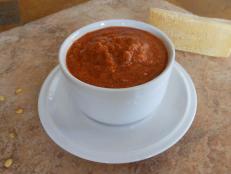 Robin Miller's twist on pesto -- made with roasted red peppers and lower in fat than the traditional green Italian sauce, is wonderful on sandwiches, meat or fish.