There are about 250 species of this saltwater fish, 15 of which can be found in United States waters from the Gulf of Mexico to the coastal waters of North Carolina. Some of the better-known species include the gray snapper, mutton snapper, schoolmaster snapper and yellowtail snapper. By far the best known and most popular, however, is the red snapper, so named because of its reddish-pink skin and red eyes. Its flesh is firm textured and contains very little fat. Red snapper grows to 35 pounds but is most commonly marketed in the 2- to 8-pound range. The smaller sizes are often sold whole, while larger snappers can be purchased in steaks and fillets. Snapper is available fresh all year with the peak season in the summer months. It's suitable for virtually any cooking method. Though some varieties of rockfish are marketed under the names "Pacific snapper" and "red snapper," and a variety of tilefish is called "yellow snapper," none of these are true snapper.

From The Food Lover's Companion, Fourth edition by Sharon Tyler Herbst and Ron Herbst. Copyright © 2007, 2001, 1995, 1990 by Barron's Educational Series, Inc.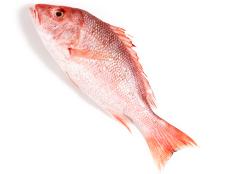 A guide to buying and preparing red snapper.