Any of several varieties of noodles made from rice, rice flour or rice powder, which are typically used in many Cambodian, Chinese, Laotian, Japanese, Malaysian, Thai and Vietnamese dishes. Rice vermicelli (also known as banh hoi, bee hoon, bihoon mai fun, mee fun, mi fen, pancit bihon and sen mee) are extremely thin noodles made from rice powder. They resemble long, translucent white hairs and, when deep-fried, explode dramatically into a tangle of airy, crunchy strands that are a traditional ingredient in Chinese chicken salad and Thai mee krob. Rice vermicelli can also be presoaked and used in soups and stir-fry dishes. Rice stick noodles (or simply rice sticks) are made from rice powder and come in thin, medium and wide widths. The thin noodles (known as bun, palabok and sen yai) are used in stir-frys and soups and deep-fried as a proxy for rice vermicelli. Medium-wide noodles (known as rice fettuccine, ban pho, ho fun, haw fun, gway tio, kway teow, kui teow, lai fen and sen lek) are considered an all-purpose noodle. They're used in a wide variety of dishes (stir-frys, soups and salads) and as an accompaniment to meat dishes. The widest rice stick noodles are known as chantaboon, jantaboon, sen chan, sha ha fun, and shan shui ho fun. They're used primarily in stir-frys and soups. When used in stir-frys their edges often become crispy while the inner portion remains soft. Rice stick noodles should be presoaked and briefly boiled before using. Rice river noodles are made from rice flour and wheat starch and are also called chow fun guo tiao, fen noodles, hu tieu, khao pun, kuay taew, rice ribbon noodles, sha he fen and sha ho fen. They're sold in sheets or in various widths cut from large sheets. As sheets they can be used to wrap meats and vegetables as in some dim sum dishes. When cut into thinner strips they're used like rice stick noodles. Rice river noodles are available fresh, usually with a light coating of oil to prevent them from sticking together or drying. Silver pin noodles are thick, round noodles about 2 inches long made from cooked rice that's pressed and rolled. They're also known as rat's tails, loh shee fun, mee tye baknen dzem fen. Silver pin noodles are used in stir-frys and can be added directly without pre-soaking. Rice noodles can be found in Asian markets, natural food stores and some supermarkets. Dry noodles are typically sold in coiled nests packaged in cellophane; fresh noodles are in plastic-wrapped trays in the refrigerated section. asian noodles.

From The Food Lover's Companion, Fourth edition by Sharon Tyler Herbst and Ron Herbst. Copyright © 2007, 2001, 1995, 1990 by Barron's Educational Series, Inc.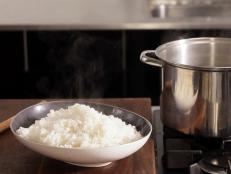 Follow these steps for 3 flawless ways to make rice.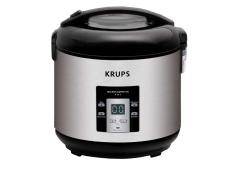 10 Unexpected Things to Make in Your Rice Cooker