Also called a potato ricer, this kitchen utensil resembles a large garlic press. Cooked food such as potatoes, carrots or turnips is placed in the container. A lever-operated plunger is pushed down into the food, forcing it out through numerous tiny holes in the bottom of the container. The result is food that (vaguely) resembles grains of rice. Ricers come in a variety of shapes, the most common being a 3- to 4-inch round basket or a V-shaped bucket. They're generally made of chromed steel or cast aluminum and can be found in specialty cookware shops.

From The Food Lover's Companion, Fourth edition by Sharon Tyler Herbst and Ron Herbst. Copyright © 2007, 2001, 1995, 1990 by Barron's Educational Series, Inc.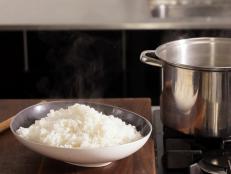 Follow these steps for 3 flawless ways to make rice.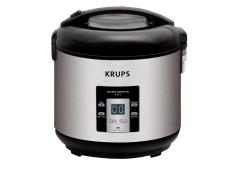 10 Unexpected Things to Make in Your Rice Cooker