This shrimp-family member resembles a miniature lobster and is wild-caught from Virginia to the Gulf of Mexico, along the coast of California and in the Caribbean. The name comes from the thick, rock-hard shells that are immensely difficult to remove by hand. Today the shrimp shells (and heads) are more typically removed by machines, the advent of which greatly increased the popularity of rock shrimp. Recognition became even broader after the shrimp were promoted as popcorn shrimp. The texture of rock shrimp is firm and slightly chewy, the flavor sweet and similar to that of lobster. Rock shrimp range in size from 25 to 110 per pound and most are sold sans shell (both fresh and frozen). They're available frozen year-round and are generally available fresh from July through November, peaking in September.

From The Food Lover's Companion, Fourth edition by Sharon Tyler Herbst and Ron Herbst. Copyright © 2007, 2001, 1995, 1990 by Barron's Educational Series, Inc.

What you need to know about shrimp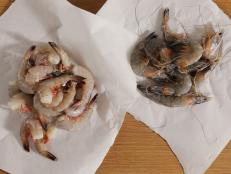 Save money by peeling and deveining shrimp yourself.