Pronunciation: [roh-mah-NEHS-kah (koh)]

Though classified as (and also called) a summer cauliflower, this vegetable's appearance is so uniquely striking that it deserves its own listing. Like regular cauliflower, Romanesca has a tightly compact head of florets attached by clusters of stalks—but there the similarity in appearance ends. Romanesca, which hails from northern Italy, is a beautiful pale lime green color; its florets, rather than being rounded, rise in a pyramid of pointed, spiraling cones. Its flavor is somewhat more delicate than that of regular cauliflower. Romanesca is available only briefly—from September through November. Choose a firm head with crisp leaves. Store in a plastic bag in the refrigerator for up to 1 week. Romanesca can be cooked in any fashion suitable for regular cauliflower. It makes beautiful crudités, and is stunning cooked whole. See also broccoflower; cauliflower.

From The Food Lover's Companion, Fourth edition by Sharon Tyler Herbst and Ron Herbst. Copyright © 2007, 2001, 1995, 1990 by Barron's Educational Series, Inc.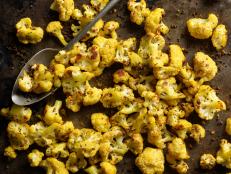 In the same botanical family as cabbage, bok choy and broccoli, cauliflower is the "red-headed step-child" of the cruciferous group. There is more to this underappreciated veggie than meets the eye.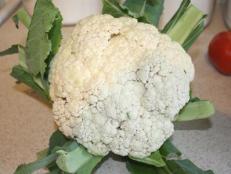 It may seem like a boring, ordinary veggie, but cauliflower has extraordinary flavor and it's packed with nutrients – go snatch some up at your farmers market this week.