Though too tart to eat raw, the ripe reddish-orange fruit of the rose (especially the wild or dog rose) is often used to make jellies and jams, syrup, tea and wine. Because they're an excellent source of vitamin C, rose hips are also dried and ground into powder (and sometimes made into tablets) and sold in natural food stores.

From The Food Lover's Companion, Fourth edition by Sharon Tyler Herbst and Ron Herbst. Copyright © 2007, 2001, 1995, 1990 by Barron's Educational Series, Inc.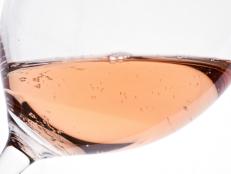 Once you get past rosé wine's frivolous, heart-shaped-bed hue, the deliciousness of the wine will win you over.