A hand-powered kitchen utensil with two beaters connected to a gear-driven wheel with a handle—all of which is attached to a housing topped with a handle-grip. The rotary beater requires two hands to operate—one to hold the unit, the other to turn the wheel. As the gear-driven wheel is turned, the two beaters rotate, providing aeration that can whip cream, eggs, batters, etc. The best rotary beaters have rounded, stainless-steel hoops and nylon gears. Others are made of cast aluminum, chromed steel or plastic.

From The Food Lover's Companion, Fourth edition by Sharon Tyler Herbst and Ron Herbst. Copyright © 2007, 2001, 1995, 1990 by Barron's Educational Series, Inc.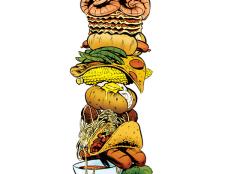 Food Network Magazine boarded a cruise ship with a nutrition coach from the new show Fat Chef to get her all-you-can-eat survival tips.