v.To remove the seeds from foods, such as fruits or vegetables. n. seed(s)

From The Food Lover's Companion, Fourth edition by Sharon Tyler Herbst and Ron Herbst. Copyright © 2007, 2001, 1995, 1990 by Barron's Educational Series, Inc.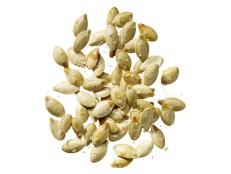 Pumpkins aren't just for pies and carving. Roast the seeds for a tasty treat or use them in these delicious recipes.