A long, pointed, thin round rod (also called a ) made of extremely hard, high-carbon steel (some of diamond steel or ceramic) and used to keep a fine edge on sharp knives. The rod is attached to a handle, which usually has a guard to protect the user's hand from the knife blade. Sharpening steels come in a variety of sizes, the ideal being about 12 inches long. Knives are sharpened by drawing them (while applying slight pressure) across the steel at a 20- to 30-degree angle 5 to 6 times on both sides of the blade prior to each use. Dull blades will not be helped by a sharpening steel; they need to be resharpened on a whetstone and then fine-honed on a steel. For maximum efficiency, choose a sharpening steel that is longer than the knife to be sharpened. To prevent metal filings from building up, occasionally clean the steel according to manufacturer's directions.

From The Food Lover's Companion, Fourth edition by Sharon Tyler Herbst and Ron Herbst. Copyright © 2007, 2001, 1995, 1990 by Barron's Educational Series, Inc.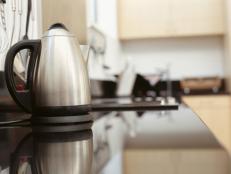 Follow these easy steps for cleaning stainless steel kitchen appliances that sparkle like new.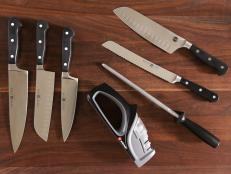 Stay sharp with this guide to honing and sharpening knives, then watch our how-to video.