This delicious crustacean is America's favorite shellfish. Most of the shrimp in the United States comes from bordering waters, notably the Atlantic and Pacific Oceans and the Gulf Coast. There are hundreds of shrimp species, most of which can be divided into two broad classifications—warm-water shrimp and cold-water shrimp. As a broad and general rule, the colder the water, the smaller and more succulent the shrimp. Shrimp come in all manner of colors including reddish- to light brown, pink, deep red, grayish-white, yellow, gray-green and dark green. Some have color striations or mottling on their shells. Because of a heat-caused chemical change, most shrimp shells change color (such as from pale pink to bright red or from red to black) when cooked. Shrimp are marketed according to size (number per pound), but market terms vary greatly from region to region and from fish market to fish market. Keeping that variance in mind, the general size categories into which shrimp fall are: colossal (10 or less per pound), jumbo (11–15), extra-large (16–20), large (21–30), medium (31–35), small (36–45) and miniature (about 100). In the United States, jumbo and colossal shrimp are commonly called prawns, though the prawn is, in fact, a different species. Though there are slight differences in texture and flavor, the different sizes (except the miniatures) can usually be substituted for each other. As a rule, the larger the shrimp, the larger the price. In general, 1 pound of whole, raw shrimp yields ½ to ¾ pound of cooked meat. Shrimp are available year-round and are usually sold sans head and sometimes legs. When raw and unshelled, they're referred to as "green shrimp." Many forms of shrimp are found in the marketplace—shelled or unshelled, raw or cooked and fresh or frozen. There are also processed shrimp products such as breaded or stuffed, frozen shrimp, shrimp spread, dried shrimp, shrimp paste and shrimp sauce (the last two found in Asian markets). Raw shrimp should smell of the sea with no hint of ammonia. Cooked, shelled shrimp should look plump and succulent. Before storing fresh uncooked shrimp, rinse them under cold running water and drain thoroughly. Tightly cover and refrigerate for up to two days. Cooked shrimp can be refrigerated for up to three days. Freeze shrimp for up to three months. Thaw in its freezer wrapping overnight in the refrigerator, or place package in cold water until defrosted. Whether or not to devein shrimp is a matter of personal preference. In general, small and medium shrimp do not need deveining except for cosmetic purposes. However, because the intestinal vein of larger shrimp contains grit, it should be removed. Shrimp can be prepared in a variety of ways including boiling, frying and grilling.

From The Food Lover's Companion, Fourth edition by Sharon Tyler Herbst and Ron Herbst. Copyright © 2007, 2001, 1995, 1990 by Barron's Educational Series, Inc.

What you need to know about shrimp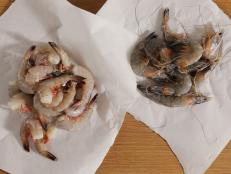 Save money by peeling and deveining shrimp yourself.