Pronunciation: [SKYOO-uhr]

n. A long, thin, pointed rod that comes in various sizes. Skewers are made of metal or wood; the former often has a ring at one end. They're most often used to hold meat in place during cooking, as well as to skewer meat and vegetables to be grilled for shish kebab. The best skewers are square or flat — shapes that hold food securely when moved. skewer v.To impale small pieces of food on skewers.

From The Food Lover's Companion, Fourth edition by Sharon Tyler Herbst and Ron Herbst. Copyright © 2007, 2001, 1995, 1990 by Barron's Educational Series, Inc.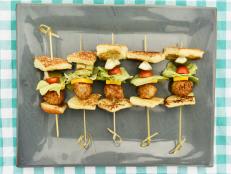 The reign of the slider is over! The Kitchen has an easy burger bite that will wow your guests at your next burger bash.