Also called vegetable spaghetti, this creamy-yellow, watermelon-shaped winter squash was so named because of its flesh, which, when cooked, separates into yellow-gold spaghettilike strands. Averaging from 4 to 8 pounds, spaghetti squash are available year-round with a peak season from early fall through winter. Choose squash that are hard and smooth with an even pale yellow color. Avoid greenish squash (a sign of immaturity) and those with bruised or damaged spots. Store uncut spaghetti squash at room temperature for up to 3 weeks. After the whole squash is baked, the rather bland-tasting strands can be removed from the shell and served with sauce, like pasta. They can also be served as part of a casserole or cold as a salad ingredient. See also squash.

From The Food Lover's Companion, Fourth edition by Sharon Tyler Herbst and Ron Herbst. Copyright © 2007, 2001, 1995, 1990 by Barron's Educational Series, Inc.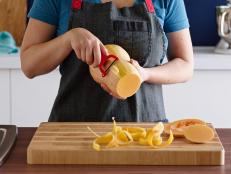 Cooking butternut squash, with its hard, thick shell, can seem daunting. But it's easy to prepare this orange-fleshed winter staple once you learn a few simple tips. Use butternut squash in soups and pasta dishes, or just serve it baked in its shell with a pat of butter and a drizzle of honey. Cook butternut squash by baking, microwaving or roasting.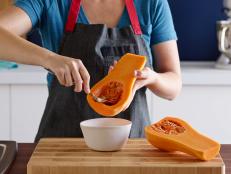 Sure, you could enjoy it roasted plainly in olive oil or blended into soup, but why limit yourself? This kitchen superstar jumps from sweet to savory so effortlessly that the only hard part is deciding how to eat it.