Pronunciation: [SPRIHT-suhr]

A tall, chilled drink, customarily made with wine and soda water.

From The Food Lover's Companion, Fourth edition by Sharon Tyler Herbst and Ron Herbst. Copyright © 2007, 2001, 1995, 1990 by Barron's Educational Series, Inc.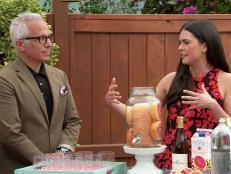 Hosting a crowd at a backyard cookout or potluck? Try this trick from the pros on The Kitchen.