1. The fruit of various members of the gourd family native to the Western Hemisphere. There is evidence of squash being eaten in Mexico as far back as 5500 B.C., and in South America more than 2,000 years ago. Squash varies widely in size, shape and color. Generally, they're divided into two categories — summer squash and winter squash. Summer squash have thin, edible skins and soft seeds. The tender flesh has a high water content, a mild flavor and doesn't require long cooking. The most widely available varieties of summer squash are crookneck, pattypan and zucchini. Summer squash is best from early through late summer, although some varieties are available year-round in certain regions. Select the smaller specimens with bright-colored skin free of spots and bruises. Summer squash is very perishable and should be refrigerated in a plastic bag for no more than five days. It can be prepared by a variety of methods including steaming, baking, sautéing and deep-frying. Summer squash are high in vitamins A and C as well as niacin. Winter squash have hard, thick skins and seeds. The deep yellow to orange flesh is firmer than that of summer squash and therefore requires longer cooking. Winter squash varieties include acorn, buttercup, butternut, hubbard, spaghetti and turban. Though most varieties are available year-round, winter squash is best from early fall through the winter. Choose squash that are heavy for their size and have a hard, deep-colored rind free of blemishes or moldy spots. The hard skin of a winter squash protects the flesh and allows it to be stored longer than summer squash. It does not require refrigeration and can be kept in a cool, dark place for a month or more, depending on the variety. Once the seeds are removed, winter squash can be baked, steamed or simmered. They're a good source of iron, riboflavin and vitamins A (more than summer squash) and C. 2. In Britain, squash is also a citrus-based soft drink.

From The Food Lover's Companion, Fourth edition by Sharon Tyler Herbst and Ron Herbst. Copyright © 2007, 2001, 1995, 1990 by Barron's Educational Series, Inc.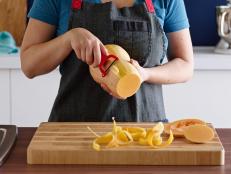 Cooking butternut squash, with its hard, thick shell, can seem daunting. But it's easy to prepare this orange-fleshed winter staple once you learn a few simple tips. Use butternut squash in soups and pasta dishes, or just serve it baked in its shell with a pat of butter and a drizzle of honey. Cook butternut squash by baking, microwaving or roasting.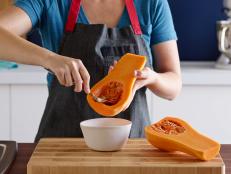 Sure, you could enjoy it roasted plainly in olive oil or blended into soup, but why limit yourself? This kitchen superstar jumps from sweet to savory so effortlessly that the only hard part is deciding how to eat it.