The flowers from either summer or winter squash are edible and delicious. Squash blossoms come in varying shades of yellow and orange, with flavors that hint of the squash itself. They can be found from late spring through early fall in specialty produce markets as well as Italian, Latin and Filipino markets. Squash blossoms are naturally soft and somewhat limp, but choose those that look fresh, with closed buds. They're extremely perishable and should be stored in the refrigerator for no more than a day. Squash blossoms may be used as a garnish (whole or slivered) for almost everything from soups to main dishes. They also add color and flavor to salads. The most common method of cooking them is sautéing, often after coating the blossoms with a light batter. Squash blossoms are sometimes stuffed with ingredients such as soft cheese before being baked or batter-dipped and fried. They contain vitamins A and C, as well as iron and calcium. See also flowers, edible.

From The Food Lover's Companion, Fourth edition by Sharon Tyler Herbst and Ron Herbst. Copyright © 2007, 2001, 1995, 1990 by Barron's Educational Series, Inc.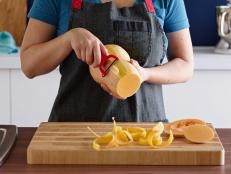 Cooking butternut squash, with its hard, thick shell, can seem daunting. But it's easy to prepare this orange-fleshed winter staple once you learn a few simple tips. Use butternut squash in soups and pasta dishes, or just serve it baked in its shell with a pat of butter and a drizzle of honey. Cook butternut squash by baking, microwaving or roasting.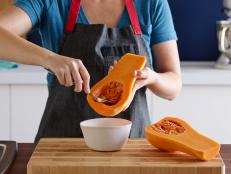 Sure, you could enjoy it roasted plainly in olive oil or blended into soup, but why limit yourself? This kitchen superstar jumps from sweet to savory so effortlessly that the only hard part is deciding how to eat it.