A slightly sweet Chinese yeast bun that's baked in a bamboo steamer. The result is a soft, puffy white bun with a slightly shiny surface. Steamed buns are served with many Chinese dishes and are a staple of the dim sum repertoire.

From The Food Lover's Companion, Fourth edition by Sharon Tyler Herbst and Ron Herbst. Copyright © 2007, 2001, 1995, 1990 by Barron's Educational Series, Inc.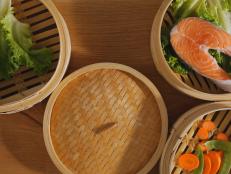 Follow these techniques to make simple and healthy dishes, then watch our how-to video.