A sweet or savory pudding that is cooked (usually in a special steamed-pudding mold) on a rack over boiling water in a covered pot. The pudding mold is usually decorative so that when the finished pudding (which is firm) is unmolded it retains its decorative shape. Steamed puddings can take up to 3 hours to cook on stovetop, half that time in a pressure cooker. They're customarily served with a sauce. The traditional Christmas plum pudding, for instance, is customarily accompanied with hard sauce.

From The Food Lover's Companion, Fourth edition by Sharon Tyler Herbst and Ron Herbst. Copyright © 2007, 2001, 1995, 1990 by Barron's Educational Series, Inc.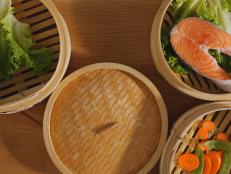 Follow these techniques to make simple and healthy dishes, then watch our how-to video.