A pasta filata cheese (such as mozzarella) that has been stretched into a long, thin strand, then stacked in switchback fashion before being packaged. Also called Syrian or Armenian string cheese, this popular edible is mild flavored and chewy. Kids young and old love to pull off the strings and eat it out of hand. See also cheese.

From The Food Lover's Companion, Fourth edition by Sharon Tyler Herbst and Ron Herbst. Copyright © 2007, 2001, 1995, 1990 by Barron's Educational Series, Inc.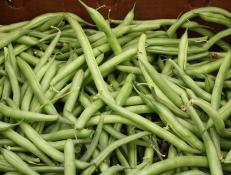 Also known as snap beans or green beans, string beans aren't just for Thanksgiving casseroles.