A product produced with imitation milks or other nondairy components (such as soy milk) and vegetable oil replacing the butterfat. Also called analog cheeses, such substitutes are lactose-free and lower in fat but lack any likeness to the flavor and texture of real cheese. See also imitation cheese; processed cheese.

From The Food Lover's Companion, Fourth edition by Sharon Tyler Herbst and Ron Herbst. Copyright © 2007, 2001, 1995, 1990 by Barron's Educational Series, Inc.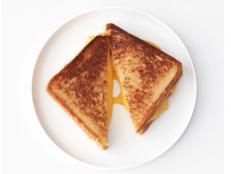 Make a sandwich from Food Network Magazine for any meal of the day—even dessert!