One to three scoops of ice cream, topped with one or more sweet sauces and various other ingredients including fruit, nuts and whipped cream. The sundae is said to have originated in the late 19th century because moralists decried the consumption of carbonated soda on Sunday ... even in the popular weekend treat, ice-cream sodas. The noncorruptive "dry" version of that treat was ice cream topped with syrup and named after the day on which soda was banned. The spelling of this frozen confection was changed to "sundae" so as not to be sacrilegious.

From The Food Lover's Companion, Fourth edition by Sharon Tyler Herbst and Ron Herbst. Copyright © 2007, 2001, 1995, 1990 by Barron's Educational Series, Inc.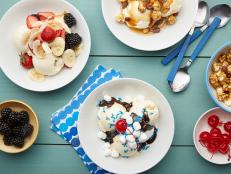 Sundaes are guaranteed crowd-pleasers. That's because something wonderful happens when the satiny sauce meets a scoop of cold, creamy ice cream.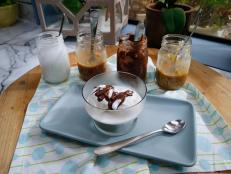 A stress-free way to have fresh, warm, homemade sauces for your next sundae party -- courtesy of your slow cooker and the hosts of The Kitchen.