A Mexican-style "sandwich" consisting of a folded corn tortilla filled with various ingredients such as beef, pork, chicken, chorizo sausage, tomatoes, lettuce, cheese, onion, guacamole, refried beans and salsa. Most tacos in the United States are made with crisp (fried) tortilla shells, but there are also "soft" (pliable) versions. The latter are more likely to be found in the Southwest and California. Tacos may be eaten as an entrée or snack.

From The Food Lover's Companion, Fourth edition by Sharon Tyler Herbst and Ron Herbst. Copyright © 2007, 2001, 1995, 1990 by Barron's Educational Series, Inc.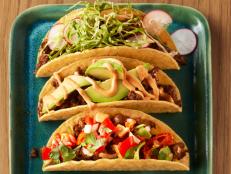 Liven up your party menu with these fun, easy tacos from Food Network Magazine.