see General Temperature Equivalents, page 780; Microwave Oven Conversion Chart, page 781; Oven Temperatures, page 781

From The Food Lover's Companion, Fourth edition by Sharon Tyler Herbst and Ron Herbst. Copyright © 2007, 2001, 1995, 1990 by Barron's Educational Series, Inc.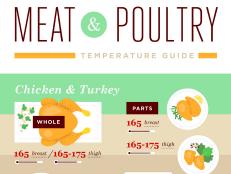 Use our internal-temperature chart to serve perfectly cooked meat every time.
The serving temperature of wine is like the weather conditions in a city: Small differences can vastly change your attitude about what's in front of you. The following guidelines will cast your wine in the most flattering light.