This comically named British dish consists of a yorkshire pudding batter to which small cooked link sausages are added. The dish is baked until the batter puffs up around the sausages (making them the "toads in the hole") and becomes golden brown. It's most often served for lunch or dinner.

From The Food Lover's Companion, Fourth edition by Sharon Tyler Herbst and Ron Herbst. Copyright © 2007, 2001, 1995, 1990 by Barron's Educational Series, Inc.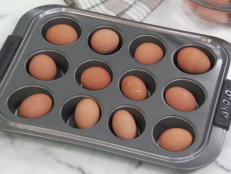 "Hard-boiling" eggs in the oven is perfect for making large batches of eggs, and it offers consistent results with little fuss or attention required.