Also known as soybean curd and bean curd, custardlike white tofu is made from curdled soy milk, an iron-rich liquid extracted from ground, cooked soybeans. The resulting curds are drained and pressed in a fashion similar to cheesemaking. The firmness of the resulting tofu depends on how much whey has been extracted. Tofu has a bland, slightly nutty flavor that gives it a chameleonlike capability to take on the flavor of the food with which it's cooked. It's texture is smooth and creamy yet it's firm enough to slice. Tofu comes in regular, low-fat and nonfat varieties, and in extra-firm, firm and soft styles. There's also a silken tofu (named for its silky-smooth texture) that comes in soft, regular and firm styles. Tofu is available in natural food stores, Asian markets and most supermarkets. The cakes are sold in a variety of forms including the following: packed in water in sealed plastic containers; vacuum-packed in plastic without water; aseptically sealed in packaging that may be kept unopened at room temperature for up to 8 months; in bulk in large, open crocks of water; and freeze-dried, a product that must be reconstituted with boiling water. Tofu, which is sometimes fortified with calcium, is very perishable and should be refrigerated for no more than a week. If it's packaged in water, drain it and cover with fresh water. All tofu should be stored covered with water, which should be changed daily. Tofu can be frozen up to 3 months. Freezing will change its texture, making it slightly chewier. The versatile tofu can be sliced, diced or mashed and used in a variety of dishes including soups, stir-fry dishes, casseroles, salads, sandwiches, salad dressings and sauces. It's easy to digest, low in calories, calcium and sodium, high in protein and cholesterol-free—all of which makes it one of today's most healthful foods.

From The Food Lover's Companion, Fourth edition by Sharon Tyler Herbst and Ron Herbst. Copyright © 2007, 2001, 1995, 1990 by Barron's Educational Series, Inc.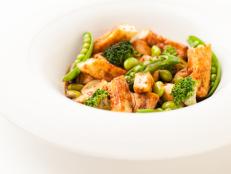 "I started working out seven years ago," says Anthony Martin, the executive chef and partner at Tru in Chicago. "I wanted to make the health aspect of my life as important as my career."