Pronunciation: [vihn-uh-GREHT]

One of the four "mother sauces," vinaigrette is a basic oil-and-vinegar combination, generally used to dress salad greens and other cold vegetable, meat or fish dishes. In its simplest form, vinaigrette consists of oil, vinegar (usually 3 parts oil to 1 part vinegar), salt and pepper. More elaborate variations can include any of various ingredients such as spices, herbs, shallots, onions, mustard, etc.

From The Food Lover's Companion, Fourth edition by Sharon Tyler Herbst and Ron Herbst. Copyright © 2007, 2001, 1995, 1990 by Barron's Educational Series, Inc.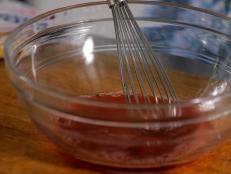 Follow these simple steps for making a vinaigrette three different ways, then watch our how-to video.