Native to Africa, the watermelon is considered less sophisticated than other categories of melon because it lacks flavor complexity and has a watery texture. But there are those who wouldn't trade a slice of watermelon on a hot summer day for anything. Though there are myriad watermelon varieties, they all share the characteristic sweet, juicy, crisp flesh. Watermelons come in a variety of shapes (from huge and ovoid to small and round) and colors, with rinds ranging from solid-colored to striped, and flesh that can be red, pink, ivory, orange or yellow. The seeds may be speckled or solid and variously colored — black, brown, green, red or white. America's most popular watermelon is the large, elongated-oval shape with a variegated or striped, two-tone green or gray-green rind. It averages 15 to 35 pounds but may be much smaller or larger, depending on the variety. (According to the Guiness Book of World Records, the largest watermelon ever grown was 262 pounds.) There are even relatively tiny varieties about the size of a medium cantaloupe. An abundance of shiny, black seeds dot the sweet, red, refreshingly moist flesh. Seedless watermelons actually do, more often than not, have a few scattered seeds. What seeds there are, however, are small, soft and edible. All parts of the watermelon can be used. Asians love the roasted seeds, and the pickled rind is a favorite in many parts of the world. Watermelons are available May to September, though they're at their peak from mid-June to late August. They're sold whole as well as in halves, quarters or by the slice. Look for symmetrical melons without any flat sides. Depending on the variety, the shape can be round or an oblong oval. Slap the side of the watermelon — if it resounds with a hollow thump, it's a good indicator that the melon is ripe. The rind should be dull (not shiny) and just barely yield to pressure. Never take home a melon with soft spots, gashes or other blemishes on the rind. Cut watermelons should display a brightly colored flesh. An abundance of small, white seeds means the melon is immature. Avoid cut melons with a grainy or dry-looking flesh. Store whole watermelon in the refrigerator if at all possible and keep no more than a week. If it's too large for your unit, keep in a cool, dark place. Cut watermelon should always be tightly wrapped, refrigerated and used within a day or so. It should be served cold, either in wedges or made into balls and served as part of a fruit cup or salad. Watermelon contains a fair amount of vitamins A and C.

From The Food Lover's Companion, Fourth edition by Sharon Tyler Herbst and Ron Herbst. Copyright © 2007, 2001, 1995, 1990 by Barron's Educational Series, Inc.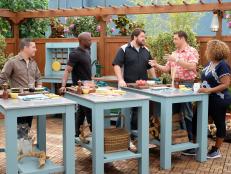 The three finalists of Food Network Star joined The Kitchen in a friendly competition to demonstrate their favorite poolside watermelon snacks. Here are their recipes.