Semitransparent paper with a thin coating of wax on both sides. Because of its moistureproof and nonstick characteristics, wax paper used to play a major role in the kitchen for duties such as covering food and lining baking pans. In recent years, however, wax paper has been replaced in many of its roles by aluminum foil or plastic wrap.

From The Food Lover's Companion, Fourth edition by Sharon Tyler Herbst and Ron Herbst. Copyright © 2007, 2001, 1995, 1990 by Barron's Educational Series, Inc.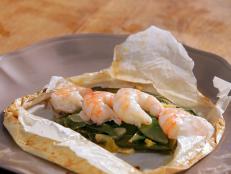 How to cook in parchment paper, a healthy and easy cooking technique.