A variety of mushroom also known as cloud ear, tree ear (the larger, thicker specimens) or silver ear (albinos). They have a slightly crunchy texture and delicate, almost bland flavor that more often than not absorbs the taste of the more strongly flavored ingredients with which they are cooked. Asian markets sell fresh and dried wood ears, the latter of which, except for the albino varieties, look like brownish-black, dried chips. Upon reconstituting they increase 5 to 6 times in size and resemble the shape of an ear. Wood ears are popular in stir-fry dishes and soups and are often combined with tiger lily buds. See also mushroom.

From The Food Lover's Companion, Fourth edition by Sharon Tyler Herbst and Ron Herbst. Copyright © 2007, 2001, 1995, 1990 by Barron's Educational Series, Inc.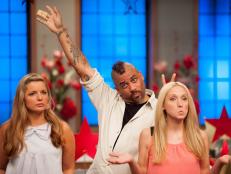 Caption this photo of Food Network Star finalists during a silly moment on set, then tune in to a new episode on Sunday, June 30 at 9pm/8c.